Residential and Commercial Tree Service Company.
For Fast Service Call Now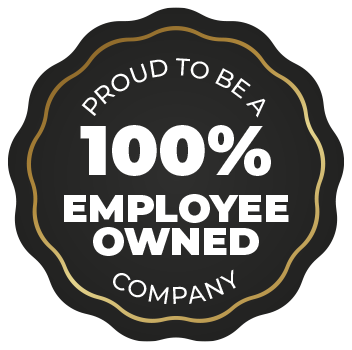 Founded in 1986, Stanley Zuba started Stanley Tree Service out of the trunk of his car with a single chainsaw and climbing strap. This very chainsaw still sits proudly in our main office window reminding everyone of our humble beginnings.
Stanley Tree Service is proud to be an employee owned company and takes pride in providing honest, quality and prompt service to every customer at an affordable price. We currently service all of Rhode Island and Southern Massachusetts, and we offer 24/7 emergency service!
Located in Smithfield, Rhode Island – Stanley Tree Service has grown to over 250 devoted and well-trained employees that care about your property as if it was their own. Our licensed arborists will evaluate your job in a timely manner and provide the most efficient solution for your project providing the best customer experience possible. There is no better advertisement than good old-fashioned word-of-mouth and we take that philosophy to heart.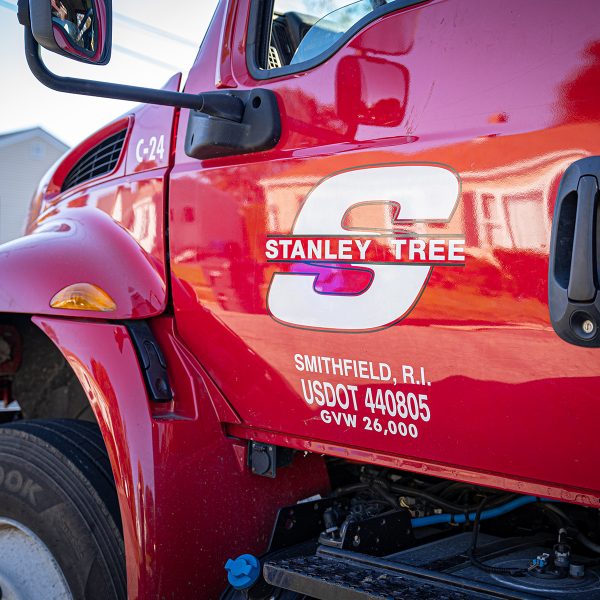 Over 30 Years of Experience
Stanley Tree Service is a fully licensed and insured company that puts safety and our customers first.  Our fleet of state of the art equipment and experienced staff can handle anything tree or plant healthcare related.  As a Stanley Tree Service customer you can expect a quality job at a reasonable price every time.
Everything went seamlessly, from the estimate, scheduling with the office, the work preformed, the clean up. I was so impressed with how professional everyone in the business was.

There were three trees on our property that required attention. Two of them were tall and would sway in the breeze a little too much. Both of them got serious "haircuts" and now look so much better and are no longer of concern with strong winds. The foreman from Stanley who did the climbing did a great job on a very hot day. We continued to use Stanley because they have done well in the past.

I would highly recommend this company, got the job done effeciencly and great price.

Brush clearing away from complex.

Professional, very knowledgeable, helpful and gets the job done right. Our family has used them for years.

Excellent job could not be happier. Everything was cleaned up. Would recommend them to everyone.

Very professional & very kind & as always on time & efficient

Made a huge project easy to handle. Would absolutely recommend!


Excellent service from initial assessment through completion of the job.


We have two very old and very large trees that need extra special fungicide treatment every year-without it, I'm certain they would die and we do not want to lose them! Stanley sustains them.

Clem and his crew were top tier. Informative, respectful to property and very helpful in offering guidance in each stage of decision making.

From North Attleboro: I can feel confident when Stanley Tree is providing help, guidance and work around my home. They are careful in their trimming and removal, always looking to do the very best for the trees and the customer. I appreciate their work ethic and integrity!

They did a very efficient and incredible job... very complicated tree removal and they did it flawlessly!

They ALL were extremely syncronized!! I could see safety came first. So professional!!! We are so pleased with their work!

Stanley Tree Service always does an exceptional job!

This was a complex job, removing 4 large pines while saving an intertwined mulberry tree. Large equipment did no lawn damage. Excellent cleanup.

The crew arrived on time and were careful with the grounds when locating the bucket truck. They took down a four trunk tree. Brush removal was excellent and surrounding shrubs were unaffected. Very satisfied with the quality of their work.

Stanley tree service was very professional at every step of the process. They removed three large trees from my property, using both a crane and tree climbers, they were on time, did a fantastic job, great cleanup and were very pleasant to work with.

Mathieu very friendly and professional. We were very satisfied with the service we received and plan to have Stanley Tree back in a few years when our trees will need another trim.

Great experience, fast turn around, professional, pruned a broken branch for us, clean up great. Would definitely use them again.

Operations Manager OLWM T.
Prompt, professional, and highly competent service for the removal of large and TALL trees. I was very satisfied with their service!!!

Stanley Tree did an excellent job of pruning several of our mature hardwoods. Recommended by Clem, we are thrilled w the results. The crew was above 5 Star. They are knowledgeable and efficient and our trees will thrive because of their expert care. Last year Clem diagnosed and treated a very sick Beech here, with good to great results so far this year. Your Stanley Tree "A Team" are Tyler, Heather and Brian.Request them!!!

They have treated my crab apple and weeping cherry for rust fungus. They are both healthy and beautiful now.

On time as scheduled very professional excellent job very pleased with service.

Just wish they hadn't stopped delivering 🤷

Glenn and his crew absolutely crushed it at my house , they went above and beyond .Me and my wife could not be happier with the job they did for us , we will use them for all our tree work and will recommend them to anyone looking for tree work

On time. Professional, Hardworking, Respect Property, and Courteous. They go above and beyond.


Professional interaction and good work.


Great service. Arrived early, reviewed work and cleaned up. All as expected.


Efficient and thorough. They do great work including complete clean up. Very professional.

Stanley Tree did an excellent job of pruning several of my large, older trees. They took great care not to destroy my yard, and their quote came in at a very reasonable cost compared with several other companies.

After talking to many tree removal companies, Stanley was the one that had the right equipment and experience to tackle the job. They spent three full days removing a number of trees from our property and we had a good experience.

Excellent and safe work, knowledgeable and efficient crew, good pricing, and both the onsite crew and the office staff paid attention to detail.

Friendly and courteous and professional. Two giant trees were encroaching on my workshop. The Stanley crew handled it with safety and prefessionalism. This is the second time we used Stanley and if need be we would use them again. Thank you,Mike Wallace,Pascoag,RI

Stanley Tree Service, Inc. is a professional organization! They were able to answer all of my questions about the trees on our property and showed up to the site early, both for the takedown of our large maple and then, after the snow melted, for the stump grinding. From initial quote to invoice, there were no surprises. Safety was a high priority. They were courteous, completed the work quickly, and left a clean worksite. I highly recommend them.


From start to finish, Stanley Tree was great to work with. I just moved into a new house and was suspicious of a tree close to my roof. The Stanley Tree team began by educating me on the different types of trees I had on my property and pointed out areas of concern. We decided to remove the tree that I was originally suspicious of. They also pruned a few of my smaller trees for me too and even went as far as cleaning my gutters out. They communicated with me every step of the way during the whole process! Afterwards, they cleaned up everything quickly. The service was affordable and I'm beyond happy with the results. I would recommend Stanley Tree to anyone looking for affordable and prompt service.

Might put in a application now knowing how to operate the bucket truck seeing it's closer to my house

Really helpful and responsive after tree damage in the last nor'easter. Team came out and finished the job even as another storm was starting. Great work, reasonable cost, and excellent communication

Excelente work the crew and office staff courteous and professional, will use their services again and recommend.

Showed up and finished on time. Everyone went above and beyond and I am so happy with the results! I will definitely use their services again!

Excellent place to build a career in arbor culture.

Saved the (birth)Day!!!We had a very large branch on our Honey Locust tree crack and partially split from our tree, hanging on for dear life. The branch needed to be removed promptly for safety reasons and we had to cordon off a large portion of our backyard. We also had a birthday party for our 6 year-old son planned and needed help! Jared, the Sales rep who came to assess, was amazing. Stanleys schedule would not allow for removal before our party - so Jared came himself to remove the branch. We were beyond grateful and impressed with his work. Highly recommend. Great company to work with!

Contractors are in high demand right now, so it's really refreshing to find a company that comes out, gives a fair estimate, then comes back as scheduled, and does a solid job. It took them an afternoon to take down a 60' maple in my back yard that had bad rot from carpenter ants, they cleaned everything up, laid down mats in my neighbors yard before driving the bucket truck on their lawn, etc. Couldn't ask for anything better

Great service at a fair price. Exceeded our expectations. Highly recommended.

Julian and his team are extremely professional. Julian knows his trees and will tell you what they are, whether or not they're healthy, whether or not they're worth treating, and even the healthiest way to prune. Furthermore, they asked permission whenever work involved a neighbor's yard, and where serious about their workers' safety. I had no worries about anyone getting hurt on my property, doing more work than necessary, etc.I had a big job done, and am so satisfied with the results, that I would recommend that anyone with trees on their property get an assessment and take care of their trees through Stanley, whether or not they know they have a problem. In these windy times, it's better to take a look before a tree potentially falls down!One thing I read on these reviews is that Stanley rescheduled. I got 5 different quotes before going with Stanley and they were all scheduled far out. Stanley did need to reschedule a couple of times for legitimate reasons, one time because it was snowing, but was so concerned about my satisfaction as a customer, they talked to me in person to assure me they would honor the proposal. They are SO worth the wait if they need to reschedule due to weather or another legitimate reason.

We have used Stanley Tree twice in the past few years.. They are tops. Always let you know where you are in the queue and how long it will be before they can schedule you. Of course they are always busy because their work is TOP NOTCH ..( we called like so many after the storm damage) We have been ever so pleased with the service they provide from the first phone call to the completion of the job ..felt like we were in good hands and dealing with honest folks .. They are the only ones we will call for our tree needs.

Grande y con mucho parqueo

Stanley Tree Services came out to my house yesterday and cut down two of my maple trees. One was in the front yard and the other was in the back yard about ten feet from my house and both were approximately 40 to 50 feet tall. They were extremely professional and thoughtful. They explained exactly what and how the process would go. The front one took no time at all. The back one was much more difficult due to the fact it was not only hanging over the house, but my shed, fencing and my neighbor's yard. They were also very attentive to my neighbor's concerns about his sprinkler system and made sure they did not damage any of his sprinkler heads with their machines. Watching them work I noticed that they thought out, planned, and discussed every move. I took pride in the fact that every neighbor said they were extremely impressed with their work! They worked diligently and efficiently to the point that they even fixed my lawn where a log fell. Yes, they did tap the vinyl corner of my house while moving a log through a difficult passage, however they immediately informed me if it. I understand accidents happened, but I was extremely impressed that they apologies and said they would "make it right" no questions asked. I received a phone call within an hour from the salesman asking me how I wanted to go about fixing the corner. Today he suggested that if I wanted, they would grind the front tree sump for free which I accepted. An hour later they showed up and again very professional and efficiently ground the stump down. I would recommend Stanley Tree Services in a heartbeat not only for their salesman and professional crew, but also for their care, honesty and their personal approach!

Stanley was great to work with, I highly recommend. They were on time, professional and efficient. Great job and very reasonably priced.

Two trees removed and wood around the yard cleaned up for a fair price. Yard looks great after the work!

Had a big tree in our backyard that needed to come down. No access to get to tree without going over our house. They came before scheduled. Arrived with 4 great, professional and a hard working team. Set up with care of our front yard and neighbors. They each had a job to do and worked coordinating who did what to get it done. Cleaned up yard from tree being removed and our front street with any branches and leaves. Even my neighbors were impressed. I would recommend them all day long. Great team. Our contact by email with quote the same day they came to look at job to keeping me updated was also appreciated. Thanks to all who came today and we are definitely happy customers

Very professional, great pricing and left my property cleaner then when they arrived!

The tree crew did great work. They took extra care to not ruin our yard or sprinkler system. They also cleaned the site up very well. The only difficulty we had was in scheduling. A storm came in the day before our originally scheduled day causing Stanley Tree to reschedule. It was a little frustrating trying to get a solid rescheduled day. Overall, they did great work for a decent price. I would definitely recommend them.

Awesome bunch of guys who do a terrific and thorough job! Can't say anything but great things!! They did a wonderful job at my Dad's!

Great crew, very professional, contract was completed as agreed and my yard looked like they had never been there when they left. Would recommend Stanley to anyone who needs tree work.

Stanley Tree Service is a company I would recommend without any hesitation. A huge tree needed to be taken down due to the recent storm. I watched the entire process. It was 93 degrees and humid beyond belief. They were so careful and professional. From what I'm told by family and friends, the price was more than than reasonable. This was my second great experience with them so I will add "consistently great work" to my comments.

These guys were fantastic. Came early on Aug 3 and did a fantastic job.

I had a tree fall at 4:15 pm from the storm and the tree was removed by 6:30 pm same day. They were a well oiled machine. I can recommend them enough!!!Great job!!

Service was incredible. Estimate was very detailed and the price is what you pay. They took down 2 very large (60' at least) pine trees along with several smaller annoying trees. Brought in hugh trucks and did the job very quickly. Apon completion, they blew all the sawdust, leaves and small branches together and cleaned it all up. I think my driveway, yard and street is cleaner after they left than before. I'm very satisfied.

These guys are amazing it's 100 degrees out and they still came to take down our tree. They were beyond professional and very cautious of our neighbors fence and our property. We will call these guys every time and recommend them to all of our friends. The price also was awesome Thankyou so very much😊

Highly recommend these guys! Great job and left the place spotless.

This company is awesome!! They came and saved my cat from a tree! He was about 50 feet up. Very nice people!


Great company great workers always professional always going above and beyond to get the job done when you want something done right you call Stanley tree service period!!!

I'd heard good things. I got 3 quotes for the work and theirs was the most simply presented and the lowest cost. They were on time efficient and cleaned up well after the work was done.

This is a great company! They are very honest on price. The guys that worked at our house were amazing. They knew what they were doing and all their work is professionally done. Everyone in this place seemed know what they are doing and they have a great communication with customers. I highly suggest using this company.

We recently had our tree in our yard trimmed by Jarred and his crew on bucket 21 and they did an outstanding job. Not even a twig was left to pick up off the ground. The crew came prepared with safety masks and gear so everyone felt safe. Great job, and looking forward to doing more business in the future. It's also great to know Stanley Tree can still keep moving forward during these challenging times and serve our communities. Stay healthy and strong. Best, Larry

Jarred and his crew on Bucket 21 did an excellent job trimming our beach tree this week. There was not even a twig left on the ground and you can certainly tell expert tree professionals did the job. The guys showed up wearing masks and took all the necessary precautions needed to get the job done right and safely. It's great to know your company can still service it's customers during these challenging times. Stay healthy and be well! Larry

Julious at Stanley Tree Services is an absolute professional! i had an URGENT crisi. While other companies lagged and languished with returning my calls or required 2 weeks notice. Stanley Tree Services were responsiveness *(returned my call within 30mins)*, effective and clinically efficient I am So thank for their services & strongly recommend anyone looking for tree removal services !!!!!

Excellent service. Very professional

Great job clearing a felled tree left by the electric company. Quick response and reasonable

In my opinion Stanley Tree Service Inc is top notch. Not only are they professional and easy to work with but they do grade A quality work for a fair price. I highly recommend them to anybody that needs tree work done for a far price. From the crew to the Secretary to the owner very respectful. I had them remove two trees that had very little drop room and they did it perfectly. Thank you Stanley Tree Service Inc.

They were extremely professional and went above and beyond what we had asked for. Affordable as well. They took care of tree trimmings and taking down a tree without issue. They also pruned an overgrown Rose Bush for us. Great Job! A+.

Excellent service, prompt, professional, and great job!

Very prompt, efficient service after storm/ courteous and knowledgable re: damaged trees/ strongly recommend

I highly recommend Stanley Tree service. A huge tree fell across our driveway blocking us in. We called and the crew was on their way within the hour . Truly professional company. We can't thank them enough for their timely response

Stan, Bruce, and the entire team are absolutely awesome to work with! They are extremely professional and really know their craft. I've worked with a few people there and everyone I spoke to was friendly and knew what I needed. They're definitely doing something right, I see their trucks everywhere! Kudos to you all!

Absolute professionals. (Julian in Sales to Jared and his team that performed the work).On time (Early actually), great communication skills (Walked though work to be performed before they started cutting), quality work and did a very nice job cleaning up sticks, limbs, sawdust etc.- Finally, walked me around the house to confirm all work done as promised to my satisfaction. After a very poor experience with a different local tree company a few years ago, highly reccomended Stanley to anyone in the area.

The crew did a great job!Completed all the work quickly and left our property clean and tidy.The work was done in a very tight space with not even the slightest bit of damage done to the landscape. This is not true of other services we have used.

They did a great job trimming our trees in N Smithfield. Cut down a smaller dead tree and deadwooded about 6 large oaks. Came out great and staff was very nice and responsive.

Excellent service from estimator through job completion. Nice people to work with, and they are respectful of your property. I highly recommend Stanley Tree Service.

The scheduling I would give a F it took a month to get the guys out here and it should not have taken that long I always see them in my neighborhood but the work and cleanup was A+ and they arrived 30 minutes early. Would recommend these guys to anyone. Polite and courteous

We received an estimate (contract) from Roxanne, which was in very good detail. Our trees were done in one day by Matt Desmarais and his crew, Marvin, Harrison and several others. They were very professional and cleaned the yard. We certainly would hire Stanley Tree Service for future tree problems.Pat & Bob Wojnowski

Big shut out to Stanley Tree Service for. rescuing the cat stuck up in a tree in the West Glocester area today. Very professional and caring. Thanks a million.

Great company!!! Had a cat stuck in a tree and they came right out and got the cat down free of charge! I highly recommend them for all of your tree service needs!

They did a great job trimming some 70' trees that were overhanging our driveway from our neighbors and when they finished they played with our dog who loves to play fetch. They cleaned up the yard very well after cutting some large branches. I would definitely recommend them to anyone needing tree cutting/trimming service.

The Chris team did the work required, in addition removed a oak that had split that day. Great work ethic. Other team members came later in the day to assist with backyard fun. Reasonably priced, highly recommend and will use again. Thank you.

Stanley Tree arrived early, cut, cleaned as they weren't even there. Four young men very polite and professional. Can't say enough Julian arrived, we walked the situation went to his truck emailed me an estimate with a Very Reasonable price Thank youFrankie MartinisWoonsocket, RI

Ready to start your project?